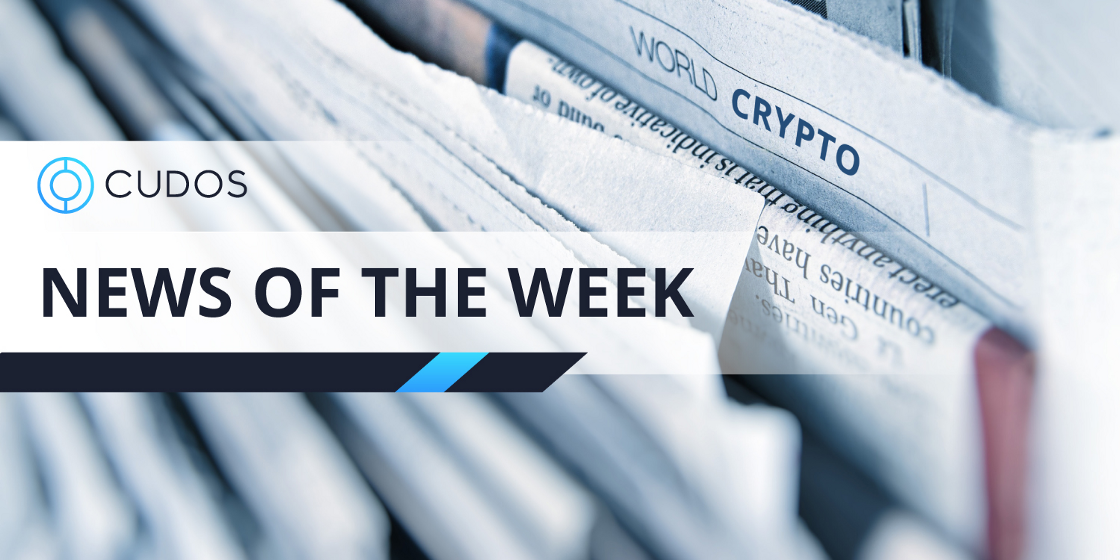 2021 has been exciting for cryptocurrencies, with the total market cap breaching the $2 trillion mark. Venture capitalists have poured about $30 billion into crypto, more than all previous years combined, according to data compiled by PitchBook Data.
The growth of DeFi services, NFTs, Web 3.0, play-to-earn games, decentralised social media could be the reasons for the growing popularity of cryptocurrencies as an asset class.
At Cudos, we have been working around the clock, getting ready to launch our mainnet on January 25, 2022. Our incentivised testnet, Project Artemis, began in September and has completed its third phase, Armstrong. The last phase, Collins, a dry-run to test migration of ERC-20 tokens to Cudos native tokens, is slated to be over by mid-January. 
2022 is certainly looking bright for Cudos and other cryptocurrency projects. New trends are emerging each day and there is a lot on the horizon to look forward to. 
Blockchain technology and cryptocurrencies took strides towards mainstream acceptance this year and it is fascinating to see what lays ahead in 2022. We have put together some predictions for the coming year: 
Sustainable cryptocurrencies
Concerns around energy-intensive cryptocurrencies like Bitcoin peaked in 2021 as environmentalists and companies expressed displeasure. In May, Tesla CEO Elon Musk suspended vehicle purchases using Bitcoin over the rapidly increasing use of fossil fuels for bitcoin mining. It led to recurring conversations in the community to make crypto more sustainable, and the good news is that there are alternatives to Proof of Work (PoW). Cardano, Cudos, Fantom, Polkadot are just a few of the mindful companies with eco-friendly currencies.
For instance, we are already over 2 million times more energy-efficient than Ethereum and 100% carbon neutral with a focus on sustainability. By harnessing under-utilised computing power, Cudos is helping reduce waste computing energy. Moreover, Cudo entered into a partnership with blockchain-based carbon credits company, ClimateTrade to offset the network's carbon footprint and ensure that Cudos is carbon neutral.
NFTs and interoperability
2021 was a breakthrough year for Non-fungible tokens (NFTs), with art sales running into millions. Emerging trends suggest that 2022 would be a year of dynamic NFTs over static NFTs. The traits and data recorded in a dynamic NFT can be continually changed through external inputs, extending their utility far beyond collectibles in the gaming industry. 
This week, we entered into a partnership with play-to-earn platform Cornucopias, a blockchain gaming metaverse, to support dynamic NFTs on the Cudos Network. The association highlights the need for interoperability in the blockchain ecosystem enabling NFT assets to be truly owned by the players. 
Cudos is also the first network to support NFTs natively on the Cosmos chain. This functionality reduces the operational cost and allows the network to integrate NFT bridges with other chains like Ethereum and seamlessly migrate assets, paving the way for interoperability.
With companies like Snap, Nvidia, Meta, Microsoft backing metaverse with their state-of-the-art products, the metaverse is set to explode in 2022. Blockchain technology and cryptocurrency must be at the heart of the metaverse, Goldman Sachs said in a note recently. And rightly so, blockchain technology can be harnessed to uniquely identify any virtual object without the involvement of a central authority, and ownership is critical to the functioning of the metaverse. 
The evolving metaverses will lead to a growing need for computing, fuelled by a distributed network with low latency. What's needed is a network that can scale on capacity and on-demand, and Cudos, the decentralised cloud computing provider, is well-positioned to fill that gap. Cudos utilises the spare computing capacity to service the metaverses of the future.
The gaming industry has the closest resemblance to the concept of a metaverse, with the virtual worlds of Roblox and Fortnite hosting millions of daily active users. Gaming experiences will become more immersive with steady advancements in augmented reality (AR) and virtual reality (VR) and the popularity of play-to-earn games.
With the emergence of cloud gaming, the industry is expected to reach a market value of $341 billion by 2026. Cloud gaming isn't dependent on powerful hardware to function and requires low latency networks with servers located as close to end-users as possible. Centralised networks aren't equipped to handle the compute and storage capacities, and decentralised networks like Cudos can distribute storage and compute across tens of thousands of nodes globally.
Learn more: 🏆 Cudos partners with LDN UTD on "All Access Gaming" at Samsung KX 🎮
Global adoption of crypto in 2021 has been explosive, with countries like El Salvador accepting Bitcoin as legal tender. 2022 could see more Latin American countries like Panama, Cuba, and Paraguay embrace cryptocurrencies. The cryptocurrency adoption grew by 880% over the past year, according to Chainalysis' Global Crypto Adoption Index. 
Key players like PayPal, Mastercard, Starbucks, Amazon, Visa, and many others are in different stages of piloting projects and managing crypto transactions on their payment network. 
At the core, the increasing adoption of crypto can be credited to its growing utility. For instance, Cudos announced a new partnership with Shopping.io, letting holders pay for their purchases on Amazon, eBay, Walmart, and Etsy across 11 international markets using CUDOS. 
What's also fuelling the crypto adoption is increased activity in online communities like Twitter, Discord, and Telegram. These communities have become hubs for novices to interact with the projects and seasoned investors to gain insights and cement their trust in the currency. 
About Cudos
The Cudos Network is a layer 1 blockchain and layer 2 computation and oracle network designed to ensure decentralised, permissionless access to high-performance computing at scale. It enables the scaling of computing resources to hundreds of thousands of nodes. Once bridged onto Ethereum, Algorand, Polkadot, and Cosmos, Cudos will enable scalable computational and layer-two oracles on all bridged blockchains.
Learn more: Website, Twitter, Telegram, YouTube, Discord, Medium